We decided to head out to Kamay National Park last week to get Matt and Sasa a bit more familiar with what it's like to use a wheelchair on a bushwalk. We were also interesting in learning more about the NPWS Trailriders, one of which is at Kamay for anyone to use.
We started off on some of the simple tracks down to the waterway, where we could sit back and enjoy the 'serenity' of Botany Bay…
Before long, we turned to take the hill back to the parks office, when this happened:
Still smiling, Matt got back in and made his way back to the top of the hill where we picked up the Trail Rider and took it for a spin: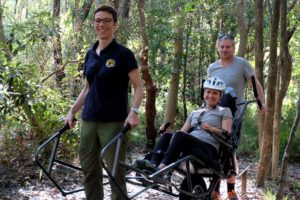 It tackled the rough terrain amazingly well, and I struggled to keep up despite using my Mountain Trike.
All in all, a wheely fun day for everyone where we learnt a lot about how to begin tackling the first stages of our Naturally Accessible project.